media update's Emma Beavon reveals five tips you can learn from Nando's to make your marketing strategy a success.
Nando's South Africa has become a marketing leader, with its bold and unconventional style. For many, this kind of marketing strategy is a breath of fresh air from the generic ways of pushing products. The brand has been brave enough to comment on politics and make fun of life in South Africa.
Here are five tips from Nando's that will help to 'fire up' your brand:
1. Stay current
What Nando's does: The company is known for its witty satire about current affairs. It taps into local feelings about things that are happening in the country; this then drives some very successful campaigns.
The adverts are able to relate to the climate of the country and are presented in a humorous way. One example is the Blue Light Brigade ad in 2014, which made fun of the fact that there were so many unnecessary police escorts for the most random ministers.
Another example is the Diversity ad in 2012, which addressed the xenophobia that was prevalent in South Africa. It posed the question: what if everyone went back to 'their countries'? It then ends by saying that real South Africans love diversity.
Staying current in South Africa means that you need to be able to communicate with and involve everyone. Nando's does this by using a combination of South African languages, which allows more people to be included on a more personal level. This also makes the adverts humorous — especially when they use vernacular to address specific situations.
For example, the brand used a combination of Zulu, Afrikaans and English in this advert that refers to South Africa's load shedding issues. It also includes a clever play on the world 'Eskom', which has become 'Eish kom' (a name many South African's use for the power supplier).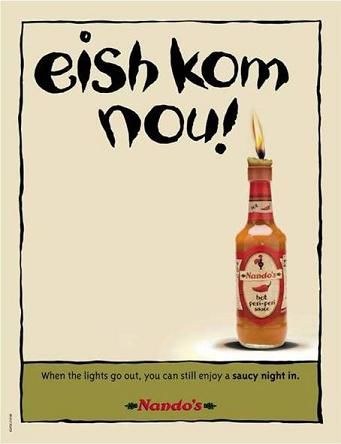 What you can learn: People like adverts that they can relate to, so using current affairs as a basis for adverts can be a great way of relating to everyone in the country. Sometimes a great advert can be inspired by a news headline.
South Africans are known to make fun of serious situations, and Nando's has capitalised on this to make some of the most memorable adverts. Reacting to what is happening in the country is a good way to get the attention of the public and to ensure that your campaign is remembered (don't be afraid to push the boundaries).
South Africa is a very diverse country with 11 official languages. Using a mixture of languages in your marketing, especially on social media, will ensure that more people are included in your campaign on a more personal level. It can also be a good way to expand the audience you reach.
2. Humour is your best weapon
What Nando's does: Nando's is famous for throwing shade and trolling other brands in a humorous way. In 2018, the brand 'burned' Absa with an advert that poked fun at its slogan 'Africanastity" and instead changed it to 'African nasti', using a similar symbol to the Absa ads. They continued to poke fun at these ads, as you can see below:
As well as poking fun at other businesses, Nando's also makes fun of everyday situations that are unique to South Africa. One example of this is an advert that was part of a campaign called '25 reasons why we love SA'. number nine made fun about car guards in parking lots of shops.
What you can learn: Using humour increases the chance of your ads being remembered. This is thanks to the humour effect — a psychological phenomenon that causes people to remember information better when they perceive that information as funny.
Comedy also humanises a campaign, which means it will generally provoke an emotion and therefore a bigger response from the public.
3. Have a recognisable style
What Nando's does: We know when we've just seen a Nando's advert — whether on TV or on a billboard. We just have to see the trademark font or the black and red logo to know what's being advertised.
Even its TV adverts have a certain style and humor, which is instantly recognisable. This is the goal of every business and all comes down to the success of a brand's marketing strategy.
Nando's has never been afraid to be sarcastic, quirky and bold so much so that it has become part of its style. It is brave enough to address political matters and other social issues while also pushing its products.
What you can learn: Having a recognisable style is part of your branding, so make sure that yours stands out.
Your brand's ads need to be consistent because you want to get to the point where they will be recognised instantly without your brand name or logo being present.
4. Engage with your audience on social media
What Nando's does: The brand is extremely engaging on social media, especially on Twitter. Nando's has fantastic banter on social media and will often reply directly to people's tweets. The public actually mention the brand in the hopes of getting them to reply with either a 'famous clapback' or a funny 'thank you'.
The level of engagement of Nando's is obvious when you look at Tweets involving the saga between the brand and Pick 'n Pay. Pick n Pay received a big clapback from the public for using iNkuku as part of its campaign for chicken, which is seen as a very 'Nando's' thing to do, as its 'vernac' has become part of its style.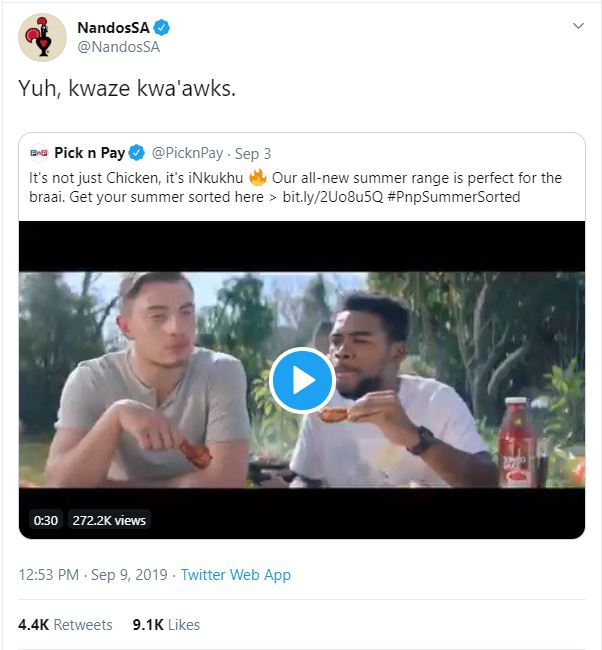 There was also a period where people would post pictures saying 'if a Nando's bread roll was a person' and 'when you eat a Nando's bread roll', which saw some savage replies to the public.
What you can learn: Although this bold and often sarcastic engagement is not suitable for most brands, the level of engagement by Nando's is something brands can learn from.
Engaging with your audience is a big part of the way marketing is conducted in the digital age, particularly on social media. By not engaging with audiences on social platforms, you are losing out on opportunities to expand your customer base and create a loyal following.
Social media is a great platform for growing your audience and therefore growing your customer base. It is also a way to build up more personal relationships with your followers.
5. Support the community
What Nando's does: Nando's is very involved in the community in the sense that it gives local artists exposure. It has been investing in and supporting Southern African artists since 2001. It currently showcases over 300 artists' work in over 1 200 of their restaurants worldwide.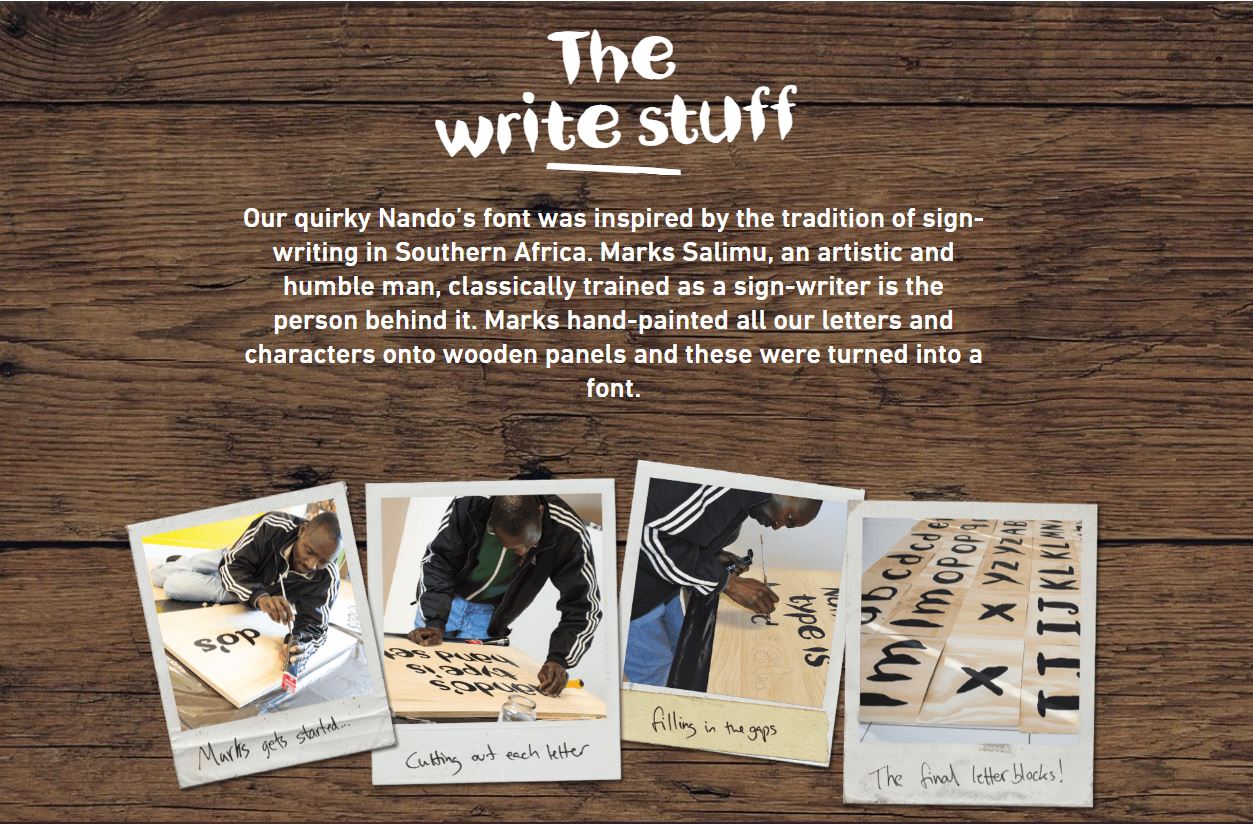 The brand is also vocal when supporting local starts and athletes, especially when they win awards, medals or positions. This shows the public that Nando's is not just a chain of restaurants; the team takes an interest in what is happening in their community.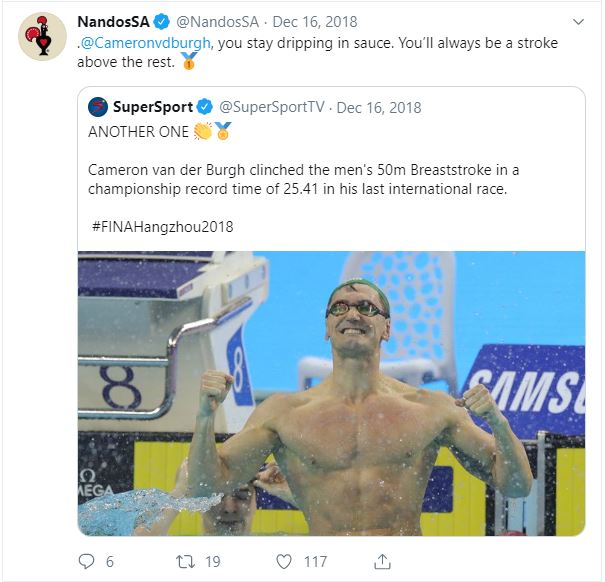 What you can learn: By supporting your community (big or small), you're showing that your company cares about its customers and the community that supports the business.
It makes your business seem more human and, if you do it well, people will think of your business as a community leader in your field.
Are there any other marketing tips you have learnt from Nando's? Let us know in the comments section below.